Today, we return to the mother ship of the Two Are Better virtual book tour. Pump Up Your Book, our sponsor, hosts an interview in which we discuss the frustrations and rewards of being authors. We also share why we wrote the book, the most difficult portion to write, and the important themes.
Pump Up Your Pump has 5,000 Twitter Facebook "likes" and its founder, Dorothy Thompson, has over 5,000 Twitter followers.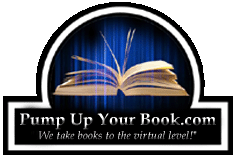 Dorothy's Klout score is 60. You can read our interview with Pump Up Your Book by clicking here. In a few days, the tour will feature some reviews on Two Are Better. We're looking forward to what those reviewers think of our book. If you've not seen some of the reviews thus far, check out our testimonials page, which has links back to the reviewers' websites where applicable.